About JuggleFit
A Bit of History
JuggleFit founder Heather Wolf couldn't bear the thought of running away with the circus and not learning to juggle. While touring as a musician and living in a 7′ x 7′ room on a circus train, she practiced juggling in her tiny room and couldn't believe what she discovered – juggling was a great workout – and it was fun!

Heather started teaching friends and family and noticed how it got them all laughing and having a good time. Some wanted to juggle all night long. Sharing a fun workout that people that didn't want to stop could really help people stay fit. Heather couldn't resist – JuggleFit was born.

Our Goal: Simple Fitness & Healthy Eating
We want to make fitness and eating healthy fun & easy for all. Plain and simple. Helping you keep fit no matter how busy your schedule is our goal. How do we do this? By offering take-anywhere exercise – including juggling, of course – plus recipe and food tips that work even when you're on the go.
JuggleFit Founder, Heather Wolf
A California native and UCLA grad, Heather is certified by the American Council on Exercise as a personal trainer and group fitness instructor. She's taught thousands to juggle for fitness all over the U.S. and abroad – even in international waters (on cruise ships!).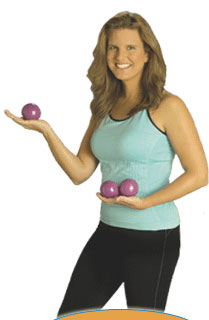 JuggleFit Founder Heather Wolf