Juggling Workshops for Team Building in New York City
Looking for an exciting team building activity in New York City?
Want to see your group smiling, laughing & having an awesome time together?
Your team will be energized and inspired as they successfully tackle a super fun challenge.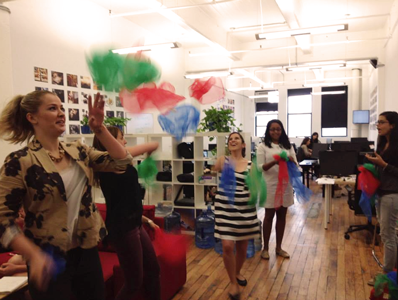 Call us at 347-217-4579 or fill out our workshop request form.

Incredible. Not knowing quite what to expect at first, our whole team left the workshop an hour later impressed by how quickly we learned to juggle and how much fun we had along the way. Definitely a great experience: an awesome escape!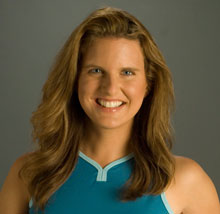 Activity Leader: Heather Wolf
Software developer turned juggling instructor, JuggleFit founder Heather Wolf has taught thousands to juggle through her workshops and Juggle Your Way to Fitness DVDs. She has led team building events for Fortune 500 companies, startups, and non-profits, and has spoken at various events and organizations including Agile NYC, Ignite, U.S. Navy, and Gulf Coast Women's Expo. Heather is certified by the American Council on Exercise and has appeared on shows such as Fox & Friends and CBS The Couch, and in magazines such as The New York Times, Time Out New York and Woman's Day.
The level of excitement and happiness in the room was thrilling. It was the highlight of our ten day staff training and the excitement lasted long past the end of our session. I would absolutely recommend JuggleFit!
We wanted to do a team building activity to challenge the group, encourage camaraderie and break the mold for the typical team building options that had been used time and time again. JuggleFit proved to be exactly what we were looking for….truly a wonderful experience that I would suggest for any corporate group.
Our workshops will leave your group inspired, exhilarated
and ready to tackle the rest of the day with vim and vigor!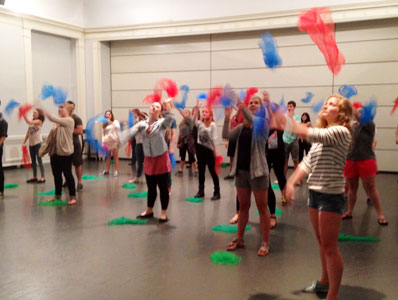 Your group will also discover the surprising benefits of juggling for brain & body. Workshops can be customized with your desired theme or message.
---
FAQs
How much does it cost?
Base rate is $25 per person for an onsite workshop at your location.
Rates vary based on date, time, distance, location and other event details. Just let us know about your group and event and we'll get back to you with a quote.
How long are the workshops?
Workshops generally last 60 minutes and can be adjusted to whatever length you like! We've done workshops as short as 15 minutes and as long as 90 minutes.
Is juggling difficult to learn?
We teach your group to juggle in slow-motion with juggling scarves, making it surprisingly easy. This way they get the basics down before we move on to teaching them to juggle with balls. We provide practice tips and plenty of resources for continuing with juggling after the workshop. Check out more client testimonials to get a feel for the reaction to learning to juggle.
How do I know everyone will enjoy it? Won't dropping the ball make some people uncomfortable?
We understand that you want the best experience for your group. Choosing the perfect activities for your event can be difficult. We've taught thousands of people to juggle and are fully confident that our workshops will be enjoyed by your group. Yes, some people are skeptical when they hear they will be learning to juggle. That's what makes it so fun! They are shocked when they can do it, laughing right alongside their co-workers and colleagues. We present juggling in a fun, non-intimidating way that still poses an exciting challenge for all. Even those that already know how to juggle will learn something new.
Who leads the team building activity?
JuggleFit founder Heather Wolf leads all workshops. Depending on the size of your group, one or more assistants may also be present.
Where is the workshop?
We come to your office, event, party or outside space. If you don't have a location for the workshop, we can find one for you (facility fee applies). We've worked with many different types of spaces, including:
Conference rooms
Office Common Areas
Parks
Gyms
Studio & Space Rental Locations (facility fee applies)

Can we make it a surprise?
Of course! Many of our clients have chosen to keep the activity a surprise. This always makes for a fun and priceless reaction when your group learns they will be learning to juggle. (Make sure to have the cameras ready!)
Do you offer juggling balls or gift bags for purchase?
Yes! We offer a gift bag option which costs $25 per person. Each gift bag includes a set of professional juggling balls, a set of juggling scarves, and a practice card.