Juggle Your Way to Fitness Beginner Level
with Heather Wolf
For Customer Service call
347.217.4579
or email us at
orders@jugglefit.com
Shipping Information
JuggleFit Store Main Page >>
Your Price: $19.99
SALE! $14.95
Note: Quantities can be updated in cart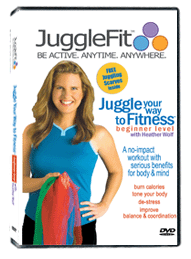 ACE-Certified trainer Heather Wolf will be your personal fitness coach!
Heather has taught thousands to juggle and has been featured on Fox & Friends and CBS Atlanta Better Mornings.
INCLUDES
FREE Juggling Scarves inside
A beach warm-up & cool-down
Simple, step-by-step juggling instruction from fitness instructor Heather Wolf
Troubleshooting and drills
JuggleFit lower body balance workout,with adjustable levels of difficulty
Practice tips to further your progress
BONUS: Next Steps Demo on Juggling with Balls
And more!
Wouldn't it be great if there was an exercise you could do anytime, anywhere, that burned calories, toned your body, made you laugh and didn't even feel like exercise? You've found it! Discover the ultimate way to exercise your body and mind with Juggle Your Way to Fitness Beginner Level. Think you're too uncoordinated to juggle? Fitness instructor Heather Wolf makes it simple for you to learn and shows you how to use your new skill to achieve increased levels of mind-body fitness. This beginner level DVD will teach you how to juggle with nylon juggling scarves (included with the DVD), and includes a next steps demonstration on juggling with balls.
Also included is a balance & coordination workout with 3 levels of difficulty, a beach warm-up and cool-down, practice tips, and surprising information on the many benefits of juggling for your mind, body & spirit! Don't miss out on this must-have fitness DVD that will have you burning calories without even realizing it. You'll be having way too much fun to remember this is exercise! – Improves balance & coordination, essential for maintaining strength and agility throughout your lifetime. – Provides a challenging, no-impact workout that's not stressful on the joints. – A beneficial workout for everyone, including athletes, seniors, even those just getting started with exercise!
View Clips from Beginner DVD Below!