For Customer Service call
347.217.4579
or email us at
orders@jugglefit.com
Shipping Information
JuggleFit Store Main Page >>
Your Price:
$49.95 (save $13!)
SALE! $44.95
Note: Quantities can be updated in cart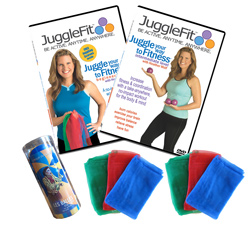 Learn to juggle together with the JuggleFit Family Pack!
INCLUDES
1 JuggleFit Beginner DVD w/free juggling scarves inside
1 JuggleFit Intermediate DVD
2 extra sets of juggling scarves (that's 3 sets total!)
1 set of Budget Juggling Balls
JuggleFit Family pack includes everything you need to get started learning to juggle as a family. With easy instruction that starts you off juggling with scarves, your family will learn to juggle the easy way – in slow-motion! Juggling super fun, but it's also great for you and your children's health. Check out these amazing benefits of juggling:
Cardio activity that burns up to 280 calories/hr, but doesn't even feel like exercise (just feels like fun!)
Has a game/play element that makes exciting and engaging for you and your child.
Improves coordination and balance.
Stimulates creativity & imagination. There's no end to the new things you can invent or learn with juggling!
Boosts confidence and creates a sense of accomplishment.
Read more on the benefits of juggling for families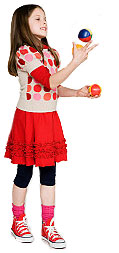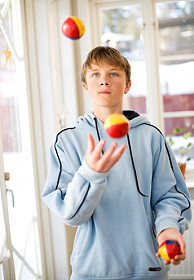 Watch Clips from the Beginner DVD!