JuggleFit Juggling Scarves
For Customer Service call
347.217.4579
or email us at
orders@jugglefit.com
Shipping Information
JuggleFit Store Main Page >>
Your Price:
$6.95
As low as $4 per set
Buy More & Save!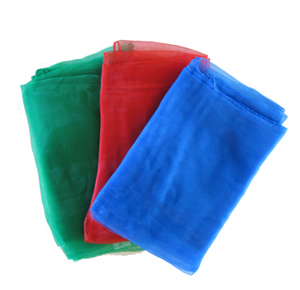 JuggleFit Juggling Scarves are perfect for learning how to juggle in 'slow-motion'!
PRODUCT DETAILS
Each scarf measures 24″ x 24″ – the perfect size and weight for learning & practicing.
Handcrafted from beautiful, bright stretch fabric
Can also be used for resistance training and exercises.
These are the same juggling scarves used by ACE-certified trainer Heather Wolf in JuggleFit DVDs and classes! They are the size and weight that jugglers prefer most. These scarves make juggling easier to learn, and prepare you to move on to the next step – learning to juggle with balls! Tie your JuggleFit jugglng scarves n a knot and take them with you wherever you go. Teach your friends and family what you have learned! Be the life of your family gathering, party or event while burning calories and making them laugh and smile.

Juggling for Fitness:
– Improves balance & coordination, essential for maintaining strength and agility throughout your lifetime.
– Provides a challenging, no-impact workout that's not stressful on the joints.
– A beneficial workout for everyone, including athletes, seniors, even those just getting started with exercise!