How Can JuggleFit Help Me Reach My Fitness Goals?
| | | |
| --- | --- | --- |
| Lose Weight | Fit Exercise into a Busy Schedule | Exercise with Friends & Family |
| Burns 280 calories an hour whether you are just learning or practicing! | Juggle during the commercials while watching your favorite tv programs! You'll burn 84 calories for each hour! | Workout while entertaining your kids. They will love watching and learning to juggle with you! |
| Juggling helps eliminate cravings when you're not really hungry by directing your attention away from the thought of food. | Juggle for only six minutes 5 times throughout the day and you've exercised 30 minutes! At work, school, wherever you are – with juggling, the world is your gym! | Couples that juggle together stay together! It's impossible to avoid laughing together while learning to juggle together. Give it a try! |
| Revs up your metabolism by encouraging short bouts of exercise at various point during your day. | Rain ruining your outdoor walking, running or biking plans? Practice juggling inside instead! | Burn calories while having fun with friends. Juggling always results in people smiling, laughing & having a great time! |
Juggling During TV Commercials Really Adds Up!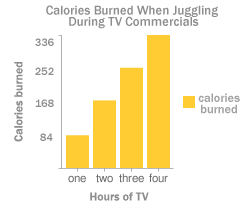 "What a workout! I jog alot, but do little towards upper body and core strength exercise. Juggling was a simple way to get a workout in a non-strenuous way."
– Larry Wasnick, Florida Dept. of Health
"Your technique worked so well — I am still amazed that you taught me to juggle in less than 10 minutes!"
– Christine Tso, CPA, CFE

"The thing that really amazed me was the exercise factor!"
– Candace Segar, Island Times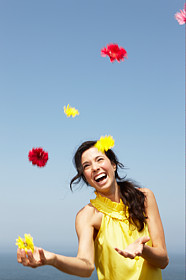 Pack your juggling balls in your briefcase, purse, or backpack so you can workout anytime!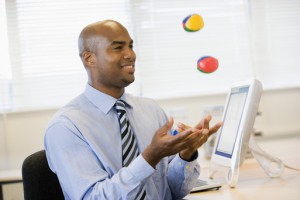 There's more – when kids or adults juggle, they not only burn calories, they build brain networks! Read about the studies here:
Juggling Makes Your Brain Bigger
Get JuggleFit!
Order your DVD Today!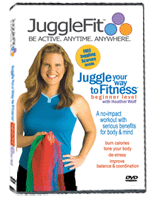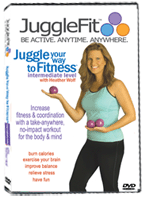 $19.99 each
(FREE scarves included with Beginner DVD!)